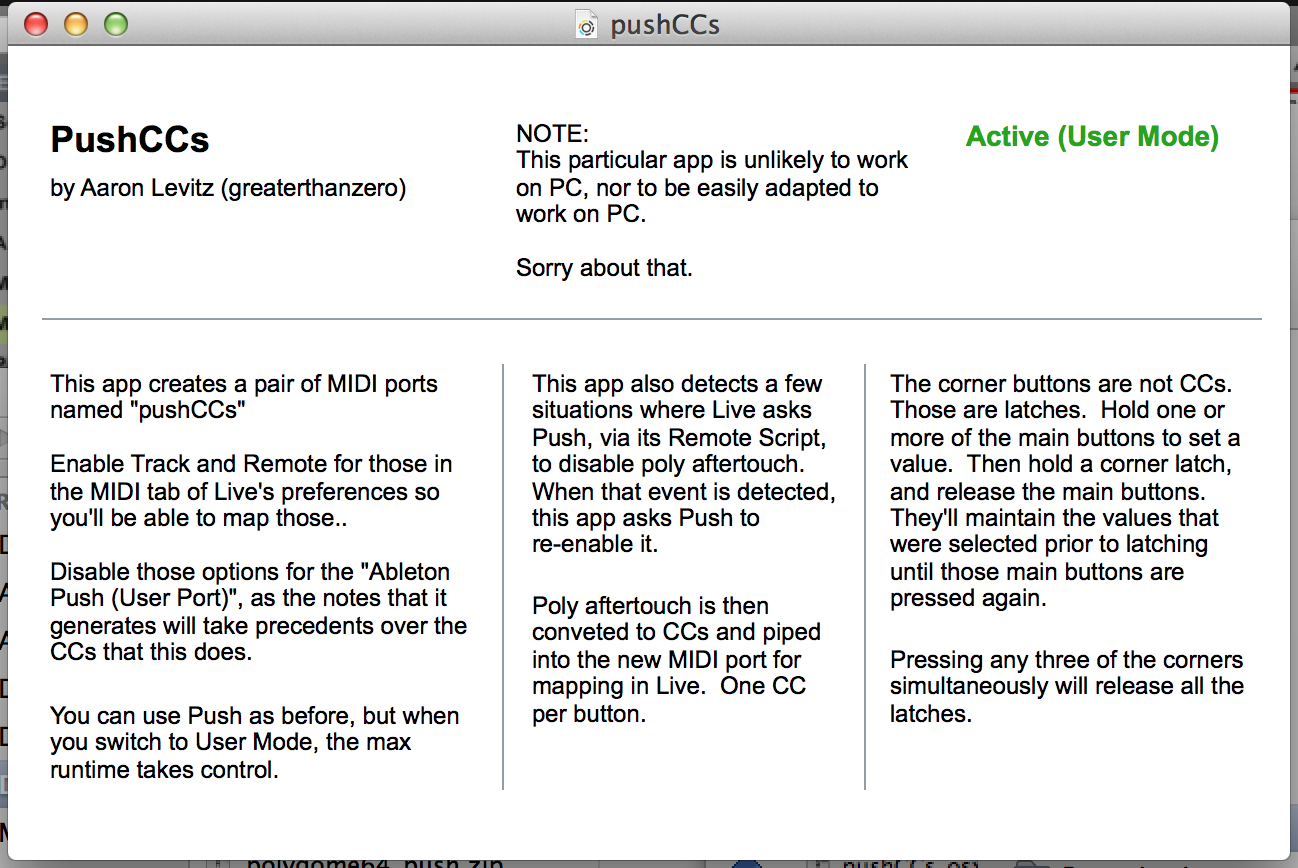 This app creates virtual MIDI ports for mapping in Ableton, and provides individual pressure values for each button.
I've added an optional latching mechanism. When that is active, you can press any of the corners to hold the other buttons in place. You can then safely remove your hand from those buttons without zeroing out their parameters.
Additionally, if you press three of the corners simultaneously, that will zero out all of the buttons and their associated values.
If you've got a foot pedal plugged in (slot 1), you can use that for latching instead of the corners.
Note: This one is Mac only. It relies on some services from the operating system, as well as the friendlier device sharing nature of things in general. At this time, there are no plans to create an equivalent PC workflow. The editable .maxpat file is included, should you like to attempt a port yourself.
v1.2:
v1.1:
…had all kinds of problems. you don't want it.
v1.0:
DOWNLOAD


(note: the compiled version included here was not in fact standalone. I've since learned how to make those correctly)
Josh Spoon did a video writeup of v1.0 here:

as part of his excellent "30 Days of Ableton Push" exploration.
---
early prototype / previous max for live version
I'll write up a proper explanation later, but here.
requires Ableton Live 9, Push, and Max For Live. if you don't have those things, this probably won't interest you.
partially based on this:
http://4live.me/post/51020217777/momentary8-pro
or rather, the old version:
http://4live.me/post/48177590939/momentary8
(This is missing nearly every feature you'd possibly care about, but it doesn't require the max runtime. I may add some of the functionality from the runtime version back into this later, when v2 is fleshed out a bit more, but there's no point with this version. m4l will never support poly aftertouch, so it's strictly a matter of whether the other features add enough without that. They don't yet.)